It's finally time for what you've all been waiting for: The next global climate strike!
It will take place on March 3rd, from 4pm at the city library (Stadtbücherei) Heidelberg. Our motto is End fossil finance.
A capitalistic system will always prioritize profit over human benefits. The greed demonstrated by companies only speeds up the destruction of our eco system and our climate. At the same time, those who contribute the least to climate change suffer its consequences the most.
So join us, and bring your friends when we protest for more climate justice on March 3rd, 4pm at the city library in Heidelberg!
I. Why do we protest?
The capitalistic system continues to prioritize monetary profit over human benefit. The greed for more and more profit displayed by companies speeds up the destruction of our eco system and our climate. All the while, those who contribute least to climate change are the ones who suffer its consequences the most.
Fossil financing in the global north is the cause for the climate crisis, neocolonial exploitation, war, and the disregard of human rights. As the capitalistic system strives for endless growth, the historically greatest issuers of greenhouse gases further the destruction of the planet by enabling the production and use of fossil fuels. This only worsens the situation of communities already suffering due to climate change. Many of them have been fighting against projects for fossil fuels longer than Fridays for Future has even existed. As a global movement for climate justice, it is our responsibility to join their fight and support their voices and demands.
Their resistance ranges from fighting against fracking on the indigenous lands of the Esto'k Gna people in North America all the way to local opposition in Huasteca Potosina in Mexico or Vaca Muerta in Argentina. They fight against the EACOP pipeline in Uganda and Tansania, against gas fields at the Senegal coast or LNG-Terminals in Mosambique. The people of Peru resist deforestation and oil drilling in the Amazon. Local fisherman in South Africa raise their voices against TEEPSA. All of these people and their struggles are connected, and the main cause is always financing. Fossil energy companies like Shell, TotalEnergies, Repsol, Perenco, and Chevron can only realize their projects because they receive funding from banks, insurance companies, and investors.
The International Energy Agency (IEA) has made one thing abundantly clear: we must stop fossil financing now if we want to keep to the ParisParis ist eine Stadt in Frankreich. Dort wurde das Klima∙abkommen unterschrieben. More Convention and curb global warming at +1,5 °C. The Intergovernmental Panel on Climate Change (IPCC) also stesses that we are very quickly running out of time. Financing projects for fossil fuels are not only completely incompatible with the goals set by the ParisParis ist eine Stadt in Frankreich. Dort wurde das Klima∙abkommen unterschrieben. More Convention as well as international law, but it is a criminal act with horrible consequences. Every euro spent on fossil financing is stained with blood and contributes to ecocide, to the deaths of thousands of people, to the destruction of our world and all the species that live with us on this planet. It does not belong to only us.
We demand the financing of all fossil fuel related projects to stop now! The act of fossil financing increases the global north's ecological debt to the most affected people and areas (MAPA). This debt is so much greater than any financial debt put upon them by the global north. That's why we demand the global north, who is also the historially greatest issuer of greenhouse gases, to waive the global south's financial debt and to pay repairs for any loss and damage MAPA had to suffer due to climate change. The end of fossil financing is not dependent on technical capacity, but only on political will. We have the means to shift funding away from fossil fuels to sustainable projects and renewable energies.
We prompt everyone to organize and take action against fossil capitalism – wether that action be casting your vote or civil disobedience. To achieve climate justice, we have to reduce the influence companies have on fossil fuels! So come join us as we march on March 3rd!
It is high time to end fossil financing, because #TomorrowIsTooLate!
II. Route
We will meet up and begin marching at the city library, and then continue via Kurfürsten-Anlage, Sophienstraße and Hauptstraße to Marktplatz where we will rally together!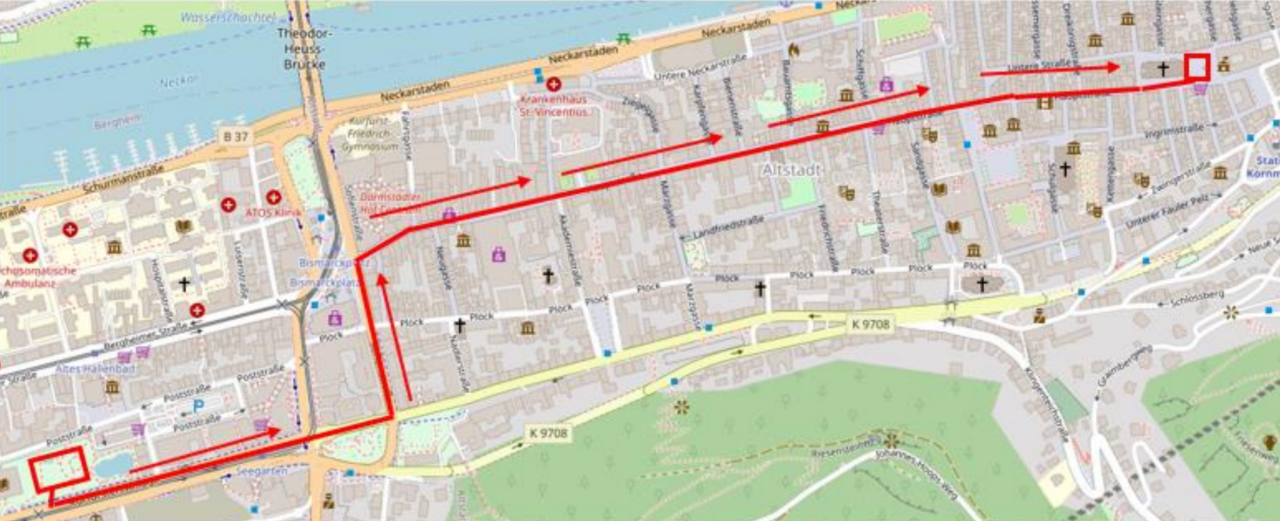 III. Additional Information
We want everyone to feel comfortable during our strike. That's why we ask you, if you have any needs or concerns that would help us improve, to please approach us before, during, or after the protest.
We have planned for a family-friendly block at the end of the protest march. There, the music will not be as loud and the overall vibes will be quieter.
During the strike, multiple Awareness persons will be accompanying the march and are happy to offer help to anyone who needs it. They will be wearing purple vests.
Since there will be a lot of people joining us in our protest, the risk of a Covid infection will increase. You can wear a mask if you like. You can also get masks from Awareness persons.